No Recovery, No Attorneys Fees
---
At SANFORD A. KASSEL, A Professional Law Corporation, we are highly-experienced San Bernardino Plaintiff's Trial Attorneys. We represent all our Personal Injury and Medical Malpractice cases on a contingency fee basis, which means that our client's do not pay us any attorneys fees, unless we actually recover compensation on their behalf.
In a contingent fee arrangement, what you don't have to pay is the lawyer's hourly fee for the service they provide. That fee will come out of any winnings at trial or settlement
We anticipate our opposition, and are ready for whatever legal challenges they might throw our way. We always prepare as though each and every case will proceed to trial.
Our office has tried, to successful conclusion, over 100 trials during the past three and one-half decades.
---
Our goal is to bring forth swift awards, with the maximum outcomes.
---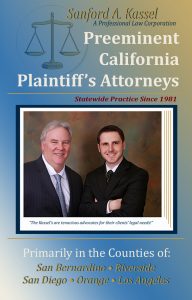 Selecting a law firm to provide you with legal representation is a very important decision. At the law office of SANFORD A. KASSEL, A Professional Law Corporation, we continually strive to provide each of our clients with the most comprehensive, professional, compassionate, and aggressive representation in the industry.
Most of all, we have an outstanding team of legal professionals who will work closely with you to bring about the best possible resolution for your case.
For any questions regarding your legal rights*, please call
SANFORD A. KASSEL, A Professional Law Corporation,
at 909.884.6451, for your FREE initial consultation.
---
*The content of this page is merely to provide general information about our contingency fee policy for attorneys fees, and should not be construed as legal advice or the formation of a client-lawyer relationship. A client-lawyer relationship with SANFORD A. KASSEL, A Professional Law Corporation, will be created only through a written agreement signed by all parties. Anyone reading this page should not rely on the information provided alone. We invite you to contact our office to discuss your specific situation with one of our attorneys. There is no charge for your initial consultation.