Three Generations Of Trusted Southern California Trial Lawyers
Featuring the three generations of San Bernardino's most prominent, and well respected trial lawyers, who have been proudly serving the legal needs of the Inland Empire for over 50 years. The combined legal experience in this family is unmatched anywhere in Southern California.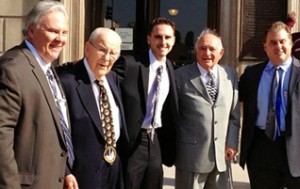 The newest member to join our legal team of trial lawyers, is Gavin P. Kassel, pictured in the center here, between his two Grandfathers, Attorney Philip Kassel (L); and The Honorable Joseph A. Katz, Retired Superior Court Judge (R). Also pictured (Far Left) is Gavin's Father, and the founder of the firm, SANFORD A. KASSEL, A Professional Law Corporation, Attorney Sanford A. Kassel. Pictured (Far Right) is Gavin's Uncle, Attorney Gregory H. Kassel.
SANFORD A. KASSEL, A Professional Law Corporation
At the law firm of SANFORD A. KASSEL, A Professional Law Corporation, our dedicated trial lawyers represent victims of serious injury accidents or medical malpractice, due to negligent reckless, or unlawful conduct of others. We also represent those who have been wrongfully discharged, or who have been discriminated or retaliated against in the workplace. And, we assist families who have lost a loved one due to a wrongful death.
FATHER-SON TEAM at SANFORD A. KASSEL, A Professional Law Corporation
"The Kassel's are tenacious advocates for their client's legal needs!"
For more than 36 years, people across San Bernardino County, Riverside County, and surrounding Southern California areas have placed their trust in the trial lawyers with the firm of SANFORD A. KASSEL, A Professional Law Corporation.
Every person we represent receives the full benefit of our knowledge, skill and resources. Our trial lawyers and our legal staff have an extraordinary depth of experience, and understand our clients' needs.
We Focus Our Practice On The Following Areas Of Law
A Strong Commitment To The Communities We Serve
Since becoming a trial lawyer in 1981, Sanford A. Kassel has devoted his career to successfully helping people across the region with their legal needs. In 2012, he was joined by his son, Gavin P. Kassel. The trial lawyers with the firm of SANFORD A. KASSEL, A Professional Law Corporation are part of a family tradition of legal practice spanning more than half a century.
We work as a team to give our clients the best chance of success in their legal claim. We thoroughly investigate the facts of every case, whether it is an automobile accident, a serious injury caused by a healthcare professional or hospital, the loss of a loved one in a fatal accident, a wrongful termination or another act of injustice.
Our personal injury and employment law trial lawyers recognize what is at stake in every legal matter.  We devote our full attention and effort toward accomplishing successful outcomes for our clients.
While many of our cases settle on favorable terms before trial, Sanford Kassel has taken more than 100 cases to trial over his career. Our trial lawyers are formidable advocates and are prepared to take decisive action on your behalf.

Our highly-experienced staff handles every case diligently and thoroughly, to establish liability and prove damages. We have a team of top-notch expert witnesses and investigators, to assist us with gathering the necessary evidence, for putting on the very best legal representation we can for your case–up to and including trial. We thoroughly prepare for each case as if it is going to trial. We strive for the maximum settlement a case can bring; however, if a settlement offer is not reasonable or acceptable, we will be prepared to proceed to trial.
Our Clients Receive The Finest Legal Representation Available
"We give each and every client the finest personal attention, and the most professional legal representation they deserve."

-Sanford and Gavin Kassel
Office Location
The law offices of SANFORD A. KASSEL, A Professional Law Corporation, are situated in the Wells Fargo Bank Building–Downtown San Bernardino. 334 W 3rd St #207, San Bernardino, CA 92401 | 909.884.6451.
We are on the corner of 3rd Street and Arrowhead Avenue, adjacent to both the San Bernardino Justice Center (home to the Civil Division for San Bernardino County), and the Historic San Bernardino Superior Courthouse.
Our proximity to both courthouses is extremely convenient and offers significant benefits to our clients…