Employment Attorneys Serving San Bernardino, The High-Desert Region, And All Of Southern California
A job is one of the most important parts of a person's life. It is our jobs that make it possible for us to support ourselves, and our families. In addition, our jobs are where we spend a significant part of our waking hours, and can give us purpose and direction. When a person's livelihood is threatened by the illegal acts of an employer, it will create problems in many areas of the employee's life. At SANFORD A. KASSEL, A Professional Law Corporation, our San Bernardino Employment Attorneys are committed to protecting the rights of employees across Southern California.
No one should have to endure discrimination, harassment, retaliation, or other types of unlawful conduct in the workplace. In fact, California and Federal Laws provide substantial protections to employees and job seekers. When you work with skilled legal counsel, you can give yourself the best chance of vindicating your rights.
In our Employment Law practice, our Employment Attorneys represent employees who have been harmed by all types of illegal conduct in the workplace. Much of our practice involves employment discrimination claims, such as discrimination on the basis of age, race, gender, disability, religion or membership in other protected classes. We also represent clients in whistleblower claims, wage and hour cases, workplace retaliation, and sexual harassment claims. Whatever your case involves, our attorneys are ready to help.
Discrimination or retaliation in the workplace is unlawful and a compensable act. If you have faced discrimination, harassment or other illegal acts in the workplace, our experienced Employment Attorneys will hold your employer accountable. Our law office has the necessary knowledge, skill, and resources to ensure you will recover the highest compensation for your claim. We know the law, and can advise you of your best legal course of action.
A 'Local' San Bernardino Law Office Taking On A Broad Range Of Employment Claims
Our Employment Attorneys represent employees who have been wrongfully terminated or otherwise harmed by their employer. We take on all types of discrimination claims, including:
Disability Discrimination/Failure to Accommodate
We also represent clients involving claims for: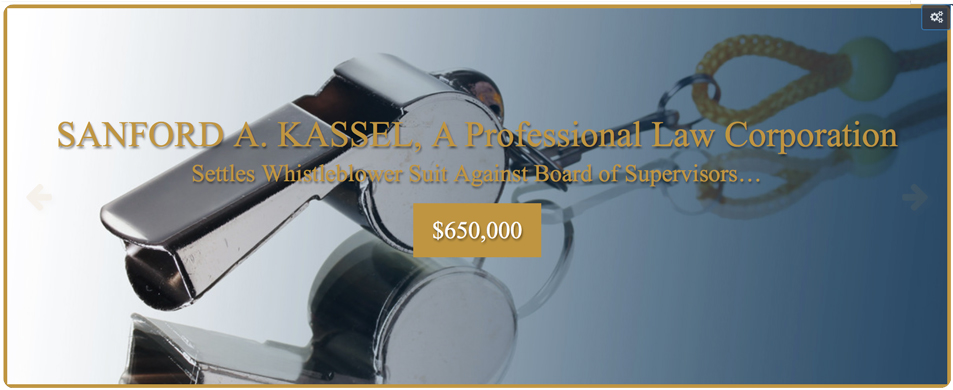 "Whatever your case involves, we recognize that employers will make a strong defense to these claims. We are highly experienced Employment Attorneys, who will undertake a comprehensive investigation to support every part of your case. We prepare every case knowing that trial may be necessary, and we work closely with each client to help them understand the legal and strategic issues in their case." -Sanford and Gavin Kassel
A History Of Exceptional Employment Representation In San Bernardino, And Throughout Southern California.
Sanford and Gavin Kassel are among a legacy of lawyers who adhere to several principles in representing their clients. As Employment Attorneys, they recognize the ongoing evolution of the law and understand the importance of taking care of one another. Furthermore, the Kassel's combine that same care and compassion with experience, innovation, resourcefulness, and tenacity! This unique form of legal practice has spanned more than 50 years—thru three generations.
Contact The Employment Attorneys At SANFORD A. KASSEL, A Professional Law Corporation.
If you find yourself in the unfortunate situation of being a victim of harassment, or discrimination in the workplace, or you have been wrongfully discharged from your job, please contact one of our Employment Attorneys at SANFORD A. KASSEL, A Professional Law Corporation–right away! There is no charge for the initial consultation with one of our highly knowledgable and highly experienced Employment Attorneys. We will be able to assist you by examining the facts surrounding your case, and helping you determine whether or not you have a valid claim against your employer. Call today, to schedule a FREE consultation 909.884.6451.