Retail Store Accident Attorneys, Serving All of Southern California
Orange County, is a very popular shopping area for out-of-state tourists, as well as local Southern California residents. It is a shopper's dream. Many tourists plan their visits to include spending quality time in Orange County's numerous outlet malls, indoor and outdoor shopping malls, exclusive boutique shops, and extraordinary movie theaters and restaurants. For the most part, patrons do their shopping, dining, movie going, and then return safely home.
Unfortunately, there are times when a shopper is involved in an accident in a retail store, or on its property, such as the parking lot. Being injured while on someone else's property is a very common aspect of Personal Injury Law, called Premises Liability Law. Under Premises Liability Laws owners and operators of public establishments, including movie theater owners, owe patron movie goers the highest level of care.
California Law regarding injury in commercial settings such as grocery stores, shopping malls, movie theaters, restaurants, gas stations, or parking lots used by commercial businesses, provides that a possessor of property (retail store owner/operator), who invites others onto their property to conduct business, must always exercise due care to keep the property in a reasonably-safe condition.  The retail store owner/operator has a duty to warn of any unreasonable risks which the owner knows about, or with the exercise of reasonable care should have known about, and which the guest or shopper would not be expected to discover for him/herself.
Please contact the Personal Injury, Premises Liability Attorneys at SANFORD A. KASSEL, A Professional Law Corporation, to discuss the merits of your case, and any benefits you may be entitled to. Our firm offers FREE consultations, and our Personal Injury Attorneys charge no fee, unless we recover for you.
Legal Obligation of a Retail Store Owner/Operator
Inside the Store:  The owner/operator of a retail store must inspect the aisles, racks, and shelves constantly to be sure the area is safe. Usually, the store will have an employee travel up and down the aisles to clean up any spill, or pick up items which may have fallen into the path of potential shoppers. In a grocery store, it may be an improperly stacked pallet of food, or case of soda, that falls on a customer as they pass by, resulting in a Slip-and-Fall Accident, causing injury.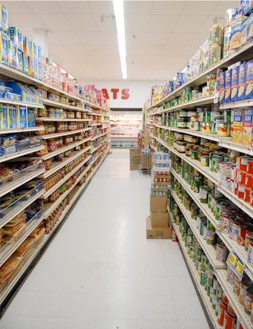 Video Surveillance Cameras: Most retail stores have video cameras throughout their business, and chances are any Slip-and-Fall Accident will have been recorded. This footage can become a very important part of the evidence used to support a legal claim, holding the responsible business accountable for their negligence.  If you, or someone you know has been injured in this way, it is vital that you contact our experienced Personal Injury Premises Liability Lawyers quickly, so that we can have our skilled team of investigators work to gather evidence, such as the video footage of the accident.
Extra Duty of Care:  Grocery stores and other retailers want their shoppers to look at their shelves, and notice the items for sale. They use bright signs, and other distracting methods to draw your attention toward the shelves and the products they are selling, rather than to the floor directly in front of you.  For this reason, retailer store owners/operators have an extra duty to keep the floors of their business clean and clear of debris.
Parking Lot Crimes:  Premises Liability Law also protects your rights as a shopper, when you are in the parking lots of a retail store.  In addition to potential Slip-and-Fall Accidents that might occur in a parking lot, a person can also be injured as the result of being "assaulted" in a parking lot, where there is no security. If the retail store knows, or should have known, of a security problem or crimes being committed in the area, they have a duty to provide proper protection to their shoppers, as their "invitees."
Types of Retail Store Accidents
There are many ways you or a loved one can be injured while in a retail store, movie theatre, restaurant, gas station, or any other type of commercial business property, in California.
Slipping on Wet Surface
Food or Beverage Spills
Scalded by Hot Coffee (Spilled by Server in Restaurant)
Tripping Over Objects in Aisles
Being Hit by Objects Falling from Shelves
Accidents Involving Escalator or Elevators
Falling Down Flights of Stairs – Due to Faulty Design or No Railings
Merry Go Round or Carousel Accidents
Loose Carpet (i.e., Movie Theatre)
Poorly Lit Theatre Aisles, Steps or Ramps
Parking Lot Accidents
Parking Lot Assaults – Due to Lack of Security or Poor Lighting
Establishing Liability in a Retail Store Accident
In any retail store accident there can be more than one person or entity at fault. It is sometimes very difficult to prove who was at fault, and insurance companies work aggressively to avoid having to pay out on claims for retail store accidents.  At SANFORD A. KASSEL, A Professional Law Corporation, we serve all of Southern California. We work with a top-notch team of specialists, to give every case the best possible investigation, so that we can determining who is responsible for causing our client's injuries. Property owners, management companies, franchise corporate headquarters, equipment manufacturers, and third parties such as security companies can also be held accountable.
If you have been injured at a commercial place of business, our skilled Orange County Personal Injury Attorneys can help determine who is ultimately responsible for your injuries. We work even more aggressively than the insurance companies. We are experienced with the tactics the big insurance companies use to try and avoid paying full value for a claim. We work hard to ensure that our clients get the maximum compensation they are entitled to. We earn our fees, when we are successful on behalf of our clients.
Contact a Southern California Personal Injury Lawyer
Contact our law office today at 909.884.6451, or fill out our online Contact Form, to schedule an appointment for a FREE consultation with one of our Personal Injury Lawyers. From our San Bernardino-based office, our legal team will do everything necessary to get you the maximum compensation and benefits you deserve for your injuries, no matter where in Southern California your accident took place. Our Personal Injury Attorneys charge no fees, unless we recover on your claim. We get results.
READ MORE…
Learn more about protecting your legal rights, if you have been involved in any type of accident at a retail store or other place of business.