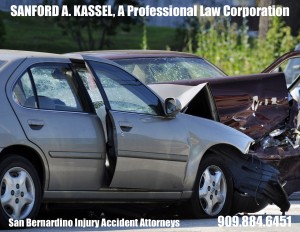 Foregoing Medical Attention After a California Car Accident
If you have been injured in a car accident or incident, it is important to obtain care from a medical professional immediately. After a car accident, some individuals tend to believe they are fine and are simply thankful to walk away from the accident without significant harm. However, in the hours or days following a car accident, these individuals become sore or start to experience pain. Some injury symptoms do not present themselves until the shock or trauma leaves one's body.
In some cases, the delay has the potential to cause greater harm or impact a future claim. Because of this, it is best to obtain a complete and thorough medical examination as soon after a car accident as possible. This not only protects you and your loved ones from suffering any harm as a result of the delay but ensures that the maximum amount of compensation can be awarded for the damages sustained.
Failing to Take Action After a California Car Accident
After particularly serious accidents, victims become overwhelmed when trying to manage their day-to-day responsibilities along with additional obligations like telephone calls, doctor's visits, and more. It becomes easy to forget or push back other tasks that do not need to be completed immediately. One common action that injured victims forget to do is timely file a claim. In California, a personal injury claim must generally be brought within two years of the date of the car accident. Unfortunately, many wait until too late to file a claim. This can cause someone to forego their right to file a claim or to lose crucial evidence that could have been obtained had the action been filed sooner. It is best to make an appointment to speak with an attorney shortly after you or your loved one obtains medical treatment for your injuries.
Foregoing Legal Advice After a California Car Accident
When car accidents occur, insurance companies are likely to speak with their insured party and the victim of the accident. After an insured party admits fault, insurance companies may try to negotiate a settlement directly with the victim. Negotiating a settlement without the assistance of an experienced attorney is risky as you or your loved one are likely settling your claim for a fraction of the costs. In addition, it is important to understand that settling your claim means that you are likely to waive your rights to seek any future relief.
There are thousands of car accidents that occur throughout the state of California on a yearly basis. The attorneys at SANFORD A. KASSEL, A Professional Law Corporation meet with a number of clients who have made some common mistakes after a car accident that have negatively impacted their claims. Our attorneys know that you deserve just relief when you are injured in a car accident. That is why our attorneys want you to avoid the following mistakes, which are quite common after personal injury accidents involving motor vehicles. For an initial consultation or a review of your claim, contact SANFORD A. KASSEL, A Professional Law Corporation today.
Contact SANFORD A. KASSEL, A Professional Law Corporation–Your Local Personal Injury Litigators
SANFORD A. KASSEL, A Professional Law Corporation, is a highly-experienced, and trusted Personal Injury Law Firm located in San Bernardino, California. Our attorneys practice personal injury, medical malpractice, and employment law matters. If you or someone you know has been injured in a car accident, and are in need of a top-rated personal injury attorney, our firm will be happy to meet with you for a risk-free initial consultation. We assist clients in San Bernardino, Riverside, Inland Empire, and Southern California.